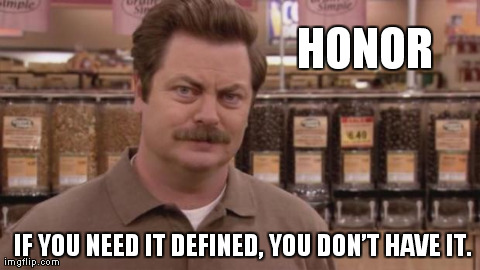 "Honor.  if you need it defined, you don't have it."
I spent a couple of decades working in radio. And numerous times throughout my career I had the opportunity to make dreams come true for many artists. One of those dreams for many (if not all) artists is to hear their song on the radio for the first time. Most can remember where they were when they heard one of their song's on the radio that very first time.
Well, a few years ago I moved from radio to the record business. And every now and then I go out on the road with one of the country artists that I work with. Last week I had the privilege to take country music newcomer Troy Bullock out to visit radio stations throughout his home state of Wyoming to promote his debut single 'Country Go Round'.
It was 5 O'clock on a sunny Tuesday, and we were sitting in the parking lot of the Olive Garden in Casper. Troy had stopped by Casper's country radio station My Country 95.5 earlier in the day to record an interview. They told us that they were going to play the interview and Troy's song just after 5. I had the video camera ready, because I wanted to see Troy's reaction when he heard his song on the radio for the first time….
That day we crossed an item of Troy's bucket list, and we crossed one off my bucket list too. Many times I'd been the one playing that new song for the first time. But this 'go round' I was there in the passenger seat watching a dream realized.
Oh, and if you like Troy's song, go ahead a head to iTunes and purchase a copy. That would make both of us happy!  Troy Bullock's 'Country Go Round' on iTunes
Are you familiar with the term yacht rock?! The term came to prominence back in 2005 with an online 'mockumentary' video series. (Go ahead and search for the term and you'll find links to all 12 episodes). The series followed the lives of some of the 'stars' of soft rock music from back in the 70′s and 80′s.
Back in the day many of us who were teenagers during that time would never admit that we actually liked soft rock even though we listened to it more than we realized. Groups like Toto, Journey, the Doobie Brothers (in the Michael McDonald era) and Steely Dan epitomize the Yacht Rock sound. And in fact, many would proclaim Michael McDonald as the poster child for Yacht Rock.
Well…. recently I was going through my iTunes library and put together what I think is a pretty good Yacht Rock playlist and I wanted to share it with you. And now, thanks to Bop.fm (a new music playlist sharing site) I can share my Yacht Rock masterpiece with you no matter where you listen to music online.
Go ahead and simply hit play… and enjoy the mellow rock sounds of our (well, at least my youth)….
Yacht Rock | Listen for free at bop.fm