Peeps!
I've talked about my love for Marshmallow Peeps before.  You can read about it here. But a few days ago I was running some errands and had to stop by my local Target store.  And as I was walking past the Valentine's Day candy section, it was almost like these brand new Peeps jumped out and grabbed me!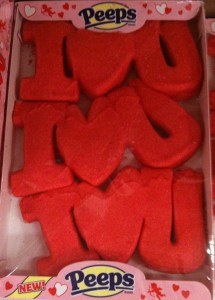 I have to admit, they didn't grab me in a good way.  I love my Peeps when they're little yellow birds, or even when they're cute white ghosts.  But giant red "I Heart U" peeps just don't do it for me!
Maybe it was the bright red color that would I knew would stain my mouth and make me look like a zombie, or perhaps the off-putting size.  I don't know, I ask you…. Does this say Happy Valentine's Day?