It's Yesterday AND Today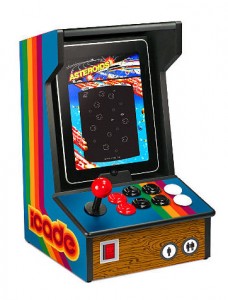 I was scrolling through my Twitter feed this afternoon, when I saw one of my friends post a link to the above item.  I thought it was too good to be true, and in a way it was…. for now!
After doing some research, I found out that the overlords at Think Geek posted this as an April Fools joke back in 2010, but obviously someone thought is was as brilliant an idea as I do, so they have actually produced it.  It's called the iCade and it turns your iPad into a classic (and I do mean classic) video gaming machine.  It like the technology of yesterday has merged with the technology of today.  Check it out HERE.
Sadly, we'll have to wait a few more months.  They're currently in production and are expected to be ready by sometime in June.  The Think Geek gang teamed up with Ion (the folks who bring us the USB turntable) to make this cool gag a reality.  They'll cost about $100, but I think they'll be well worth it to ancient gamers like me.
Atari has already jumped on board to make available some of their most loved video games from our youth.  Supposedly they already have Asteroids ready to go, and hopefully will also be bringing us classics like Centipede, Space Invaders, and Missle Command.  I'm sure video game legends like Pac-Man, Ms Pac-Man, and Donkey Kong won't be far behind.
I'm just hoping that there's some way that they can recreate Tempest!  I promise to post pictures once mine arrives.